Hookah smokers are always looking for a better way to enjoy smoking shisha. In this article, we will list the five best hookah bowls that you can buy in 2022! These popular hookah bowls have been chosen by experts and hookah enthusiasts. If you've been on the fence about buying a new hookah bowl or if you want to know more about what types of bowls are out there, then this blog post is perfect for you!
Hookahs are really fun to smoke because it is a social activity that brings friends together over good conversation or after a great meal. And because hookah bowls come in many different shapes and styles, there is always one out there that will fit your needs perfectly. Whether you're a beginner or an experienced smoker, we've got something for everyone.
After smoking hookah for years, I've found that it can be difficult to find the best bowls. I've consulted with other shisha freaks about multiple bowls and come up with 5 of the very best bowls on the market today.
I hope you enjoy reading this review and learn something new from it!
What to look for in a hookah bowl?
There is no such thing as a perfect bowl. Everyone has a different idea of what they want from a hookah session depending on their own preferences.
Some of us will experiment with a range of bowl shapes and sizes, while others stick to the traditional Egyptian clay hookah bowls. And some keep adding new weapons to their ever-growing arsenal of modern hookah bowls.
It could be the color option that really sets your hookah apart from your friends, or you'll find the perfect size for your hookah tobacco. The thickness of the bowl plays a key role in heat management.
The right bowl will be able to handle the heat well and won't crack. It will also hold up for multiple sessions without needing to replace it anytime soon. Many bowls are made with materials like high-quality clay, ceramic, or even metal; but over time, they lose their color due to the abuse of high temperatures during smoking sessions.
So now that we know what to look for in a hookah bowl, let's check out the 5 best hookah heads or bowls on the market right now:
Alpaca LeRook
If you're in the market for a new hookah bowl, you can't go wrong with an Alpaca LeRook. This top-rated phunnel bowl is handmade in California from a special blend of stoneware clay and features a 100% food-safe glaze. Plus, the unique castle shape inside the spire makes it one of the most popular bowls on the market today. This bowl is suited for 20 to 30 grams of dark, medium, or blonde tobacco. We suggest utilizing Natural coconut coals with this bowl. It takes between 2 to 3 minutes to warm up.
Features
-Handmade in California: Alpaca bowls are handmade with love in sunny California!
- Special blend of stoneware clay: They use a unique blend of stoneware clay that is 100% food-safe and glazed with a beautiful, non-toxic glaze.
- Easy airflow: The spire of the LeRook hookah bowl is identical to its predecessor Rook and allows for ease in airflow with four precise cutouts, so you don't miss a drop of shisha juices flavor.
- Keep the juice in the bowl: You can still reap the benefits of a phunnel bowl and enjoy a leak-free session.
Why do we like it:
Handmade in California
Special Blend of stoneware clay
100% food-safe glaze
Retains heat without overheating
Easy to clean
Specifications:
Height: 4 inches (10.16 cm)
Width of top: 3.25 inches (8.25 cm)
Shisha tobacco to use
Medium to dark leaf tobaccos.
Kaloud hookah bowl
The Kaloud Hookah Bowl is an innovative and durable bowl that is easy to clean and fits perfectly with the Kaloud Lotus I and the Kaloud Lotus I+. The silicone and the Kaloud Lotus never touch, which means even more flavor and better heat flow.
The individual chambers allow for unique heating and perfect Shisha measurement every time. If you're combining two or three flavors, the chambers are excellent measurement standards. The Central Air Channel allows for more juice to stay in the flavor chamber and, more importantly, your puffs.
Kaloud's silicone hookah bowl is a must-have for any smoker. It's made from FDA-approved non-toxic silicone, so it's safe to use and won't break if dropped. Plus, it's easy to pack and easy to clean - you'll never experience your sessions in the same way again.
Features
-The silicone and the HMD never touch, which means more flavor and better heat flow.
-Individual flavor chambers allow for unique heating.
-Central air channel allows for more juice to stay in the flavor chamber.
-FDA-approved non-toxic silicone.
-No grommet is necessary with most Hookah Stems.
Why do we like it:
Quality materials
Easy to pack and clean.
Fits most hookah pipes.
Does not require much heat.
Specifications:
Height: 4 inches (10.16 cm)
Width of top: 3.25 inches (8.25 cm)
Capacity: 20 to 25 gram
Japona Mummy hookah bowl
The Japona Hookah Bowl is an exclusive design that uses heat-resistant white clay to create a unique smoking experience for you! This bowl flaunts a beautiful, hand-painted design that's both unique and beautiful. It also features a special smoke swirl effect, which makes for an interesting smoking session with friends.
The Japona Mummy bowl is one of the most distinguished bowls on the market, with a large air intake; perfect for people who love massive clouds! This phunnel hookah bowl can easily fit up to 20 grams of Shisha. If you have a large HMD or use charcoal cubes this is definitely a great choice!
Features
HANDMADE - Japona phunnel bowl is produced in Russia in limited batches. It's sturdy and will last you a long time!
DURABLE WHITE CLAY - The material used to create this hookah bowl is heat-resistant, so it can withstand high temperatures. It won't crack.
HMD COMPATIBLE - Our phunnel bowls are compatible with foil and HMDs. They have a lip on the outer edge that holds the heat management system in place.
BEAUTIFUL DESIGN - Beautifully decorated with colored braided cords, this hookah bowl looks great on any hookah and comes in a stylish wooden box.
Why do we like it:
Phunnel bowl.
Exclusive design.
Unique experience.
Holds up to 20 grams of shisha.
Specifications
Weight: 6.5 oz.
Height: 4 inches
Diameter: 3.15 inches
Capacity: 15-20 grams.
Are you looking for a quality medium-size phunnel bowl? Look no further than the Oblako Phunnel M Glaze Hookah Bowl. This bowl is perfect for sessions of 1-2 people and is best when used with more robust hookah shisha blends.
Oblako and Doosha collaborated to create the unique edition Phunnel M in an all-black shiny glossy finish. Designed and made in Russia, this bowl features a sleek, dark design; the top of the bowl is glazed with a shiny, black ceramic which contrasts the matte black bottom half.
This bowl is made of dense white clay which effectively captures heat and allows your sessions to last longer.
Oblako phunnel bowl is a high-quality ceramic hookah bowl. One of the most popular Russian hookah bowls. It's really simple to clean and it doesn't retain the flavor of the shisha tobacco after washing.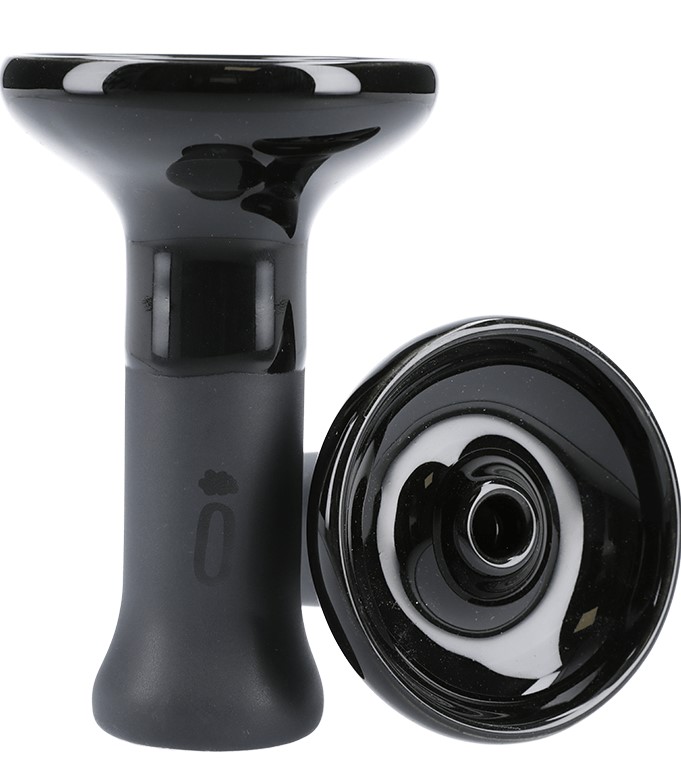 Features
t has an elegant look with a glossy finish.
Dense and durable white clay ceramic bowl.
Fit most hookahs with a grommet.
Beautiful shiny design, making it a great addition to any hookah.
Why do we like it:
Works well with a heat management device
Easy to clean
You can use different hookah tobacco; won't affect the flavor
Specifications
Weight: 6.5 oz.
Height: 5 inches
Diameter: 3 inches
Capacity: 20-25 grams.
Olla bowl
The Olla hookah bowl is the perfect way to enjoy your smoke. The Italian white clay and detailed decorations will keep you coming back for more! No ash leaks, so there's nothing else necessary but some good old-fashioned relaxation time with this beautiful piece of equipment made by hand in Italy just for those who want its best quality yet affordable prices too.
Olla bowl is suitable for a heat management device or aluminum foil. You may smoke your hookah for a longer period of time thanks to the gradual heating and balanced temperatures., never exceeding 100°C (212° F) thanks to the Italian white clay quality used.
Features
Gradual heating and balanced temperature.
Italian white clay does not retain flavors.
Handmade detailed decorations.
No ash leaks.
Resistance to high temperature.
Why do we like it:
Use it with a heat management device or foil.
You can clean it with the sponge that is provided in the package.
Modern hookah bowl: An Italian masterpiece.
Specifications
Bowl height: 11 cm
Diameter: 7 cm
Capacity: 12 grams
Smoking hookah is a great way to relax and enjoy time with friends, but it can be hard to find the best equipment for your needs.
You don't want to buy cheap or poorly made products that will break after one use. Plus you need something that's easy to clean and won't retain flavor from previous sessions.
Olla bowls are handmade in Italy by skilled artisans using high-quality Italian clay which resists heat up to 100°C (212°F). The design is modern and detailed, making this bowl perfect for any smoker who wants the best of both worlds - affordability and quality.
FAQs about hookah bowls
What type of hookah bowls are there?
There are about six popular hookah bowl types:
Egyptian bowls: The traditional Egyptian hookah bowl is the most widely used bowl. It comes with 4 to 6 holes and can be glazed or not glazed. They are used in most hookah lounges.
Vortex bowls: A vortex bowl has a spike in the middle of the bowl. The spike has four or five holes through which smoke may flow. Clay, Pyrex, silicone, aluminum, and other materials are used to make vortex bowls.
Phunnel style bowls: A Phunnel hookah bowl have an open hole spike at the middle of the bowl. They can keep shisha juices for a longer time.
AppleOnTop bowl: AppleOnTop hookah bowls are similar to vortex bowls in that they have a spike with four holes in the middle of the bowl. It is constructed of aluminum and comes with a screen for the coal; it can't be utilized with aluminum foil. The handle is made of rubber so it won't break if dropped.
Inverted Bowl: Not the most popular hookah bowl. Inverted Bowl is a new concept comprising of two hookah bowls. In the bottom bowl, you put the coals and on the top hookah bowl, you load the shisha tobacco.
Syrian Bowls: It's a traditional bowl similar to an Egyptian-style bowl. The only difference is that the Egyptian bowl sits on top of the stem while the Syrian bowl goes inside the stem of the shisha pipe.
What is the best hookah bowl for beginners?
Of all the types of hookah bowls, we recommend vortex and phunnel bowls.
A Phunnel hookah bowl is always a better option than traditionally styled clay hookah bowls. It is designed to save shisha juice. More juice means more shisha flavor, better smoke, and longer smoking sessions.
A vortex bowl, like the phunnel bowl, has raised spire in the center, instead of the usual holes along the bottom of a traditional hookah bowl. The spire keeps the shisha tobacco safely contained inside the bowl. So it won't drip down inside the stem.
The more juice you have, the better your shisha flavor will be, and your hookah session will last much longer.
Phunnel bowls and Vortex bowls are great for extending the life of your session and your enjoyment of the shisha.
Conclusion
Many smokers are looking for the best hookah bowl to use to have a quality smoking experience. While there are no one-size-fits-all solutions, we hope that by sharing these 5 bowls with you, you'll be able to find an option that works well for your needs and budget! So don't wait any longer.
There's nothing better than enjoying some good tobacco or herbal shisha with friends on a nice evening out-especially if it tastes even more delicious because of the perfect hookah bowl being used.
At Shisha Freak, we have a wide selection of the best hookah bowls in the market.